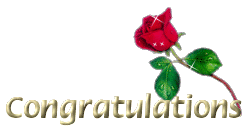 Special Dedication for Ana NorZawawie Anwar
Tahniah kak long and abang long ucapkan buat Awie...
Convocation dia semalam.
Weekdays... kenapalah pihak uni suke buat weekdays??? Nasib
time aku weekend... paksa sanak saudara datang... kih kih kih
Walaupun kami tak pergi tapi tetap ingat... laki ku semalam balik kerja terus tido sampai esok pagi nak gi kerja... letih betul suami ku itu... tapi ku tahu semalam hari yang gembira buat semua org... buat awie sure dia happy sbb pergorbanan menjadi pelajar dah pun berbalas dengan segulung diploma. Begitu jugak dengan mak and abak, must be the happiest day ever sbb tengok satu lagi anak dah berjaya... lepas ni akan mengorak langkah kerja sendiri dengan bekalan diploma yang di perolehi... Alhamdulilla...
Hati ibu dan ayah mana yang tak gembira? like ayah selalu nasihatkan me dengan fidah dulu...
we are not from rich family... ayah tak ada harta tuk di tinggalkan tuk anak2... hanya yang dia mampu member pendidikan tuk anak-anak supaya mereka senang kelak... tak perlu mengharapkan sesiapa walaupun di takdirkan hidup bersendirian satu hari kelak, itu boleh menolong...
i guess semua mak ayah akan pikir macam tu... sudah lepas satu tanggungjawab memberi pendidikan buat si anak.
I wish Didi could understand that! awat dia keteqa nak faham isi tu macam me and fidah?!!!!
Hari itu akan menjadi satu kenangan di mana kita akan ingat sampai bila2... senyuman ibu dan ayah itu pembimbing tuk kita terus sara mereka kelak... kerana anak itu harta yang ternilai buat ibu dan ayah... i can feel that very well...
Seeing this pic... buat ku tak henti tersenyum... and betapa bangganya seorg ibu melihat anak kerjaya seorg anak... ini satu permulaaan... semoga awie akan terus berjaya di masa hadapan... Apa pun yang awie buat... we always support you... congrat bro!
Best pic ever...